University business, lower shift (daily newspaper Junge Welt)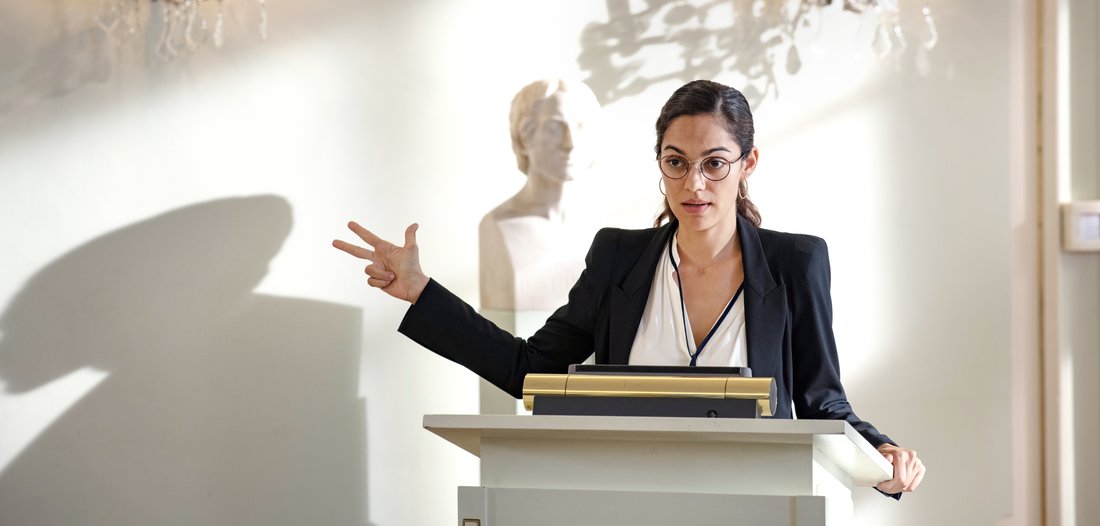 © 2020 Constantin Film Verleih GmbH
The dwarfs cast long shadows in the Sönke-Wortmann-Kintopp, while the oratory is ostensibly celebrated
If Sönke Wortmann is once again adapting a successful French comedy – in this case: "The brilliant Mademoiselle Neïla" (Yvan Attal, 2017) – nobody expects a good film. It would be correspondingly useless to turn up your nose at the lukewarm routine of the dramaturgy of »Contra«. Obviously, just as the 62-year-old speculates on commercial success with his 16th feature film, it does seem quite revealing what he is serving up as supposed common sense on irritating topics such as racism, diversity and political correctness.
In the first act there is a significant gap: when law professor Pohl (Christoph Maria Herbst) lets himself be carried away by what he calls a "polemic", its duration and intensity have an effect, measured against the occasion, the late arrival of student Naima (Nilam Farooq), conspicuously exaggerated. The more the question arises, why he babbles about "my culture" in front of a full auditorium and regards a first name that is widespread in the Islamic world as a curiosity. The fact that Doron Wisotzky's script then declares the professor to be a brilliant rhetorician who repeatedly lectures on the targeted use of language makes the initial nagging sound even more nonsensical – regardless of whether you accept the unspoken premise of the film that the lawyer Pohl is not a racist may be.
As expected, the scandal is scandalized on social media – although the more or less left-wing circles, who are zealously involved in anti-racist activities in the university, typically remain invisible. All the more noticeable how ostensibly bourgeois the academic world is depicted in this film and how it consequently short-circuits racism with class conceit.
Even before a disciplinary committee is supposed to decide on his behavior, Pohl is ordered by his superior (Ernst Stötzner) to prepare Naima for participation in a Germany-wide student debate competition. His fluency and rhetoric skills are contrasted with their verbal clumsiness, which the professor identifies as "underclassified". The course of the plot consequently raises the question of the extent to which Naima, under the influence of her mentor, may alienate herself from the patronizing-sympathetically stereotyped (sub-) proletarian-migrant milieu in which she grew up as the daughter of Moroccan immigrants on the outskirts of Frankfurt. It seems just as logical that the most concrete example of racism is provided by an opponent of the debate who is designed as a caricature of AfD bourgeoisie.
While Naima rushes from debate victory to debate victory, the art of high-class speech is celebrated superficially – although every content of the speech turns out to be a hackneyed banality. The cultural capital of the educated bourgeoisie does not seem to be too far off. Which is why in »Contra« social capital also proves to be decisive for career success.
.